Green Chemistry Advocate and Summit Organizer
"Seth Itzkan of Planet-TECH Associates displayed tireless leadership in organizing the precedent-setting Green Chemistry Business Summit [1] and in writing the draft business case for a Green Chemistry Demonstration Center...He has been an instrumental force in helping to advance Green Chemistry as an engine for sustainable economic growth...His dedication is extraordinary, and I am grateful for it."
- Dr. John Warner, Co-Inventor, Green Chemistry; Co-Author, Green Chemistry: Theory and Science; CTO, Warner Babcock Institute for Green Chemistry.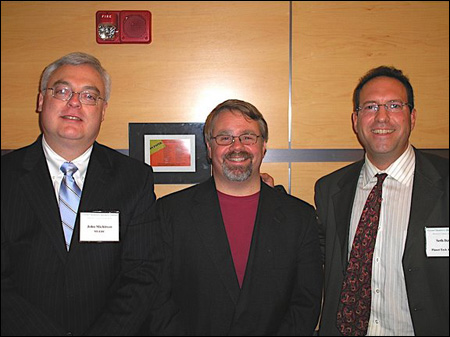 John Michitson, John Warner, and Seth Itzkan at the Green Chemistry Business Summit, Haverhill, MA, October 2007.
Corporate Innovations Consultant
"Seth Itzkan of Planet-TECH Associates helped us to conceptualize and implement a prominent enhancement to our Indicators Project, the 'Boston: Hub of Innovation [2]' tool...This new tool is information-rich, visually compelling, and of great practical use to regional planners."
–Charlotte Kahn
Director, The Boston Foundation Indicators Project

Seth Itzkan with Hub of Innovations panel at The Ideas Boston conference
CyberDistrict & Premium Power Consultant
"As a Member of the Haverhill Cyberdistrict Task Force, Mr. Itzkan has provided visions for innovation and leadership that are greatly appreciated…His study on Power Reliability opened my eyes.,,Its findings are germane to the future of our city's economic growth."
- John Michitson, Haverhill City Councilor, Director Cyberdistrict Task Force, Haverhill, MA.
"In recognition of your Distinguished Service to the City of Haverhill, and of your Dedicated Work to preserve the highest quality of life in our community. And for your outstanding citizenship for efforts on the Cyber-District Project."
- Michael J. Bresnahan, President Haverhill City Council, 11-March-2002
Futures Lecturer
"His address to the students and faculty was timely and compelling…, he made it clear that responsibility for the future demands attention not only from scientists but from all of us in all disciplines…I am pleased to recommend Seth to other schools and organizations as a speaker and as an example of commitment to creating a better future for our people and our environment."
- Steven L. Hahn, Head of School, Lawrence Academy, Groton, MA
Millennial Generation Consultant
"Mr. Itzkan, Thank you for the informative report, Count on Us! Teaming with Youth for the 2010 Census. It profiles the Millennial Generation as an important stakeholder for planning and participating in the 2010 Census. The document creatively integrates both demographic and technological trends. … This document has already been useful in alerting planners for the 2010 census on the important role of this generation."
- Juanita Tamayo Lott, Planning, Research, and Evaluation Division, U.S. Bureau of the Census
Vice Presidential Endoresement for Global Classroom Youth Congress
"I am pleased and have this opportunity to send my best wishes and personal greetings to everyone associated with the First Global Classroom Youth Congress…please be assured that I share your interest in new developments in instructional computer networking and that I support your efforts….I genuinely hope that the Global Classroom Youth Conference is a great success."
- Vice President Al Gore, 28-June-1993