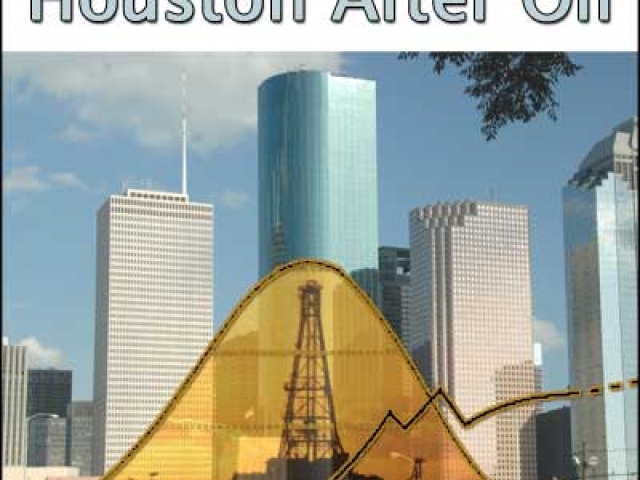 Objective & Vision
The objective of the Houston After Oil forum is to help Houston area planners and industry leaders to discover and communicate opportunities for growth in a "low carbon" sustainable energy economy. 
Why Houston?
Poster City for a Remade Energy Economy Sends a Compelling Message to the Rest of the World
While today Houston is the poster city for the mature fossil-fuel economy, it is envisioned that with proper planning, Houston can remake itself as a center for the sustainable energy revolution, and, in doing so, assure a clean and prosperous economy long into the future.   
To do so would make Houston the exemplar of other U.S. cities and send a compelling message to the rest of the world - that even in Houston a low-carbon energy future is not a threat to prosperity, but is in fact, the doorway to enormous economic opportunities.
Indeed, Houston is already well poised to be a leader in high-growth alternative energy and environmentally friendly industries. It is a high-tech Mecca who\\46#39;s per capita concentration of scientist, engineers, and doctors is among the highest in the world.  It is home to leading industries and research centers in atmospheric and earth science, bioengineering, materials processing, and of course, energy markets and distribution.  There is much to be excited about. 
Areas of Focus & Questions to Consider
Baseline Energy Demand and Forecasts: What is Houston's energy demand?  What is its CO2 contribution?  How is the energy footprint distributed by sector: residential, transportation, industrial?  Which industries are the biggest consumers?  What are the "standard" projections based on Census and Department of Commerce data? 
Economic Impacts and Opportunities in a Low Carbon Economy: How is Houston's economy affected by fossil fuels and the petrochemical industry?  What is its future?  How do significantly higher energy costs impact Houston's economy?  What are alternatives to extend or diversify energy industries?
Innovations / Alternatives / Exemplary Models: What are the leading examples of sustainable work in municipalities?  What are the innovations in Houston and around the world that are setting the template for the future?  What are opportunities for high growth, low carbon industries?
Even in Houston,  a low-carbon energy future is not a threat to prosperity, but rather a doorway to economic opportunity.